Our philosophy is simple: if you wouldn't eat it, don't give it to your dog and that's why we only use first-class ingredients that are fit for human consumption. Our range of products is processed in a human food processing plant (the certificate can be requested should you wish). All the ingredients are dehydrated at a low temperature in the traditional fashion to ensure its properties remain intact.
MEAT FROM OUR WAGYU OXEN
This is the main ingredient (60%). These animals are raised on our own farm and extremely well fed and cared for. This is one of the best types of meat available in the world. It is an extremely rich source of protein with a high biological value and also contains unsaturated fatty acids (which are highly beneficial for health). Its high vitamin and mineral content is ideal to ensure adequate growth and vitality and to maintain muscle tissue.
WAGYU LIVER
A very complete food that is rich in iron, zinc, B-group vitamins (riboflavin, niacin, pantothenic acid, biotin, folic acid, and Vitamin B12) and Vitamin K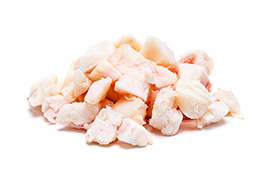 WAGYU FAT
Carnivores digest animal fat much better than vegetable fat. This unsaturated fat is rich in oleic acid (omega 9) and linoleic acid omega 6).
POTATO
Rich in potassium and Vitamin C.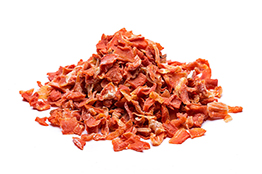 CARROT
This contains beta-carotenes that are converted into Vitamin A which is essential for good eyesight and helps protect against infections. Carotenes are also molecules that boost the immune function and have anti-carcinogenic and anti-oxidant properties.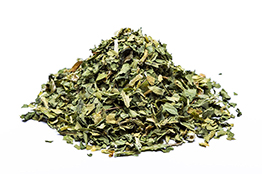 SPINACH
Rich in folic acid which is necessary for cell development and haemoglobin synthesis. This contains high levels of Vitamin K, a powerful anti-haemorrhagic agent that boosts blood clotting factors.
CRANBERRIES
These have considerable anti-bacterial effects. They help fight against urinary tract diseases and help prevent the formation of stones. They also have considerable anti-oxidant properties which aid tissue repair.
TOMATO
A remineralizing and detoxing agent that helps eliminate uric acid. It also contains lycopene and Vitamin C which act as anti-oxidants. A source of phosphorus and magnesium which is necessary for muscle activity.
APPLE
This contains pectin that acts as soluble fibre thus improving the intestinal tract. It is also a source of amino acids.
LINSEED
Rich in omega 3, this also contains a considerable amount of mucilages which boost the level of hydration of the gastrointestinal tract and make this work more efficiently.
SEAWEED
One of the foods with the highest content of mineral salts and trace elements. Rich in iodine, iron, magnesium, cobalt, calcium, phosphorus and potassium.
BROWN RICE
Brown rice is a very complete cereal that is absorbed slowly and is a source of energy. Thanks to its fibre content, this is essential to ensure your dog's good health, above all when regulating bowel habits. This also contains B-group vitamins and minerals such as phosphorous, calcium, potassium and magnesium.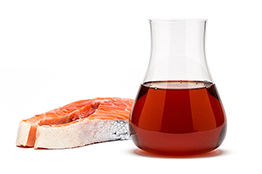 SALMON OIL
Salmon oil is rich in omega 3 fatty acids, mainly EPA and DHA, two fatty acids that help prevent cardiovascular diseases, improve cell permeability which in turn increases glucose uptake in the muscles and enhances neurotransmitter synthesis which leads to a healthy nervous system. It also has a high Vitamin D content, which is essential for the synthesis of a number of hormones and to ensure that calcium and anti-oxidants, such as Vitamins E and A, are correctly absorbed and metabolized.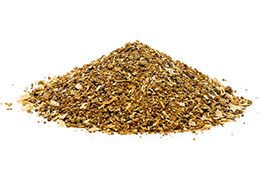 PREBIOTICS AND PROBIOTICS
These are yeast fibres that benefit the digestive tract in two different ways: The inhibit the growth of pathogenic bacteria and stop these from adhering to the intestinal mucosa and directly boost the efficiency of the immune system, the body's defences, which is to say they help this fight pathogenic agents.
FREEZE-DRIED EGG
Egg protein is the protein with the highest biological value (it contains amino acids that are essential for the organism). It also contains a considerable number of vitamins and minerals including choline which facilitates the development of the nervous system as well as lutein and zeaxanthin that help prevent eye disorders, folic acid that aids in the formation of red blood cells and the Vitamin D necessary for the absorption of calcium.
You can contact us over the phone by calling 94.756.80.01 from 9:00 am to 1:00 pm and from 3:00 pm to 5:30, Monday to Friday.

We can also be contacted by e-mailing info@altudog.com
and we will try to clear up any doubts you may have as quickly as possible.