Given the exceptional situation caused by COVID-19, delivery times are approximate and may vary. We continue working to offer the best service.
Homemade, healthy and delicious feed.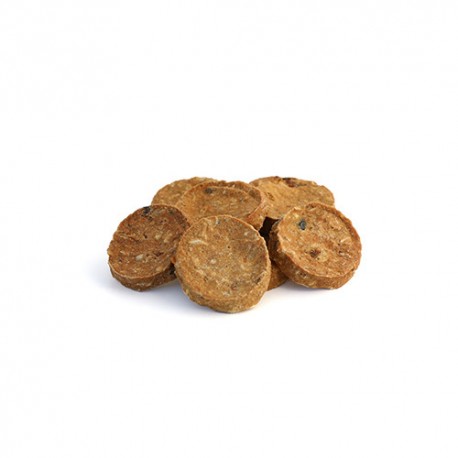 View larger
Warning: Last items in stock!
Availability date:
Cod Bites: 100% dehydrated cod at low temperature to preserve intact all its properties, made with love, this is the perfect snack for your best friend!
Rich in omega 3 and natural antioxidants, with endless benefits for the skin, hair and heart, since omega 3 acts as an anti-inflammatory and is beneficial in allergic processes.
Grain free. Hypoallergenic and easy to digest. No added dyes or preservatives.
Approximate measurement of each cookie: between 2 and 3 cm in diameter.
Net weight package: 100g
Delivery 3-5 workdays
Ingredientes: 100% Cod. The healthy alternative to any commercial snack.
Protein: 70,7%
Fat: 22,5%
Ashes: 4,55%