Lamb Recipe for Adult dogs 1KG
AltuDog Lamb Recipe for Adult dogs 1KG, a complete natural food for adult dogs of all breeds.
All ingredients are processed in our own human grade food processing facility.They are non genetically modified and free of any chemicals & preservatives. They are dehydrated for easy digestibility and enhanced nutrient retention.
FREE OF preservatives, colorants, and flavorings.
GLUTEN FREE - HYPOALLERGENIC
1 sachet which correspond to the nutritional value of 4Kg of fresh food.
Net weight:1Kg
Expiration date: 6 months
Once opened, store in the refrigerator, the product will retain its properties up to 25 days.
This 100% human grade dish is designed for humans, but deserved by dogs.
Put the recommended amount (see feeding guide) into a bowl Add hot water, half volume of water than product Mix well and wait 10 minutes Feed once or twice per day and ideally at room temperature. Feeding requirements do differ depending on your pet's breed, age and activity level. If your pet is overweight or underweight then adjust the amount fed accordingly.
Dehydrated lean lamb meat 50%, cooked and dehydrated brown rice 16%, dehydrated fruits and vegetables 15% (carrot, tomato, spinach, apple, blueberry, potato), lamb fat 9%, heart 5%, eggshell powder 2%, salmon oil, seaweed, bacillus subtilis (C-3102) 1x10 to the 9th power CFU / g, garlic powder, turmeric and rosemary extract.
DEHYDRATED FOOD RECOMMENDED PER DAY: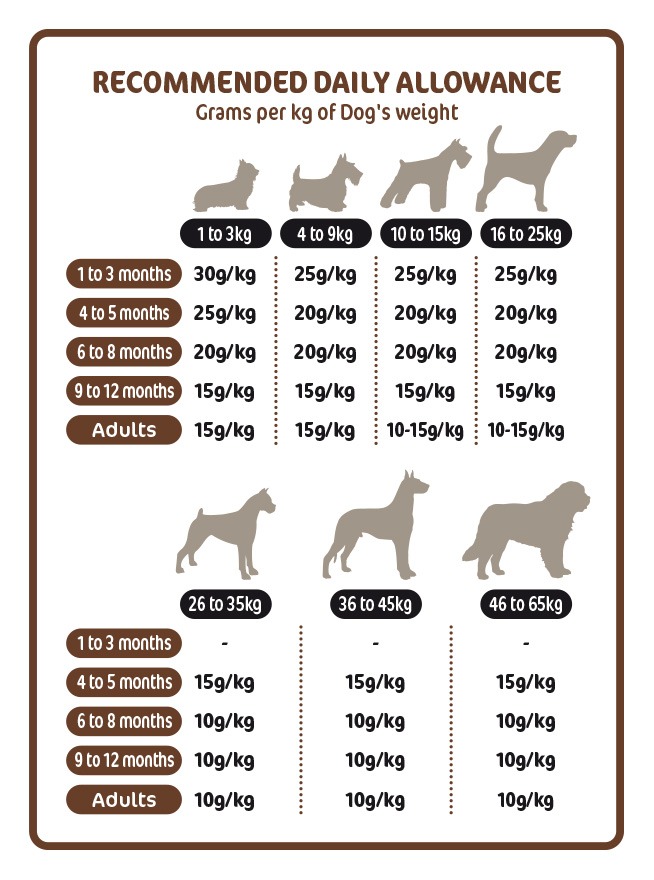 Energy value: 475kcal / 100g
Crude Protein: 40%
Crude Fat: 15%
Humidity: 12%
Inorganic matter: 3.6%
Gross Fiber: 1.9%
Calcium: 1%
Phosphorus: 0.53%
Sodium: 0.22%
Customers who bought this product also bought: