AltuDog is a company with a clear objective: the search for a healthy and balanced diet for all dogs, regardless of breed. Through research and new trends in animal nutrition carried out by canine and feline veterinary nutritionists, we have launched a quality product onto the market that is totally different from other products currently on the market – a healthy and natural food made with premium ingredients (human grade), with no intermediaries.
We go one step further, as a large portion of the animal ingredients we use come from our Wagyu breed animals, reared on our own farm with AENOR animal-welfare certification. This meat is rich in unsaturated fatty acids such as omega 3, 6 and 9. The rest of the ingredients we use come from local suppliers with first-class quality certification.
We have our own low-temperature meat dehydration room to control the whole process from start to finish.
The end result is a dog food that is unique on the market, a blend of top-quality meat, fruit, and vegetables. You'll be able to perfectly distinguish all the ingredients it contains.
Your dog is one of the family, feed them the way they deserve!!!
Why AltuDog?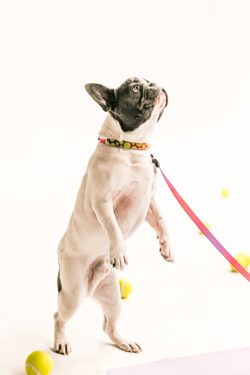 Your pet is like a member of your family, so it makes sense that you only want to give them the best. The majority of dog food and biscuits you can find in supermarkets and department stores, though they may have fairly low prices, often contain by-products that can damage the animal's health. What's more, it's not uncommon for them to not want to eat it.
If you've struggled with this situation and are looking for a totally natural and appetising food that provides your dog with all the nutrients it needs to look strong and healthy, AltuDog, the ultimate natural dog food, is the ideal solution for you and your pet. Without a doubt, this is a top-quality product that will provide them with all the nutrients they need for a balanced diet – and they'll also love the flavour.
You should know that AltuDog currently has two types of products, adapted to the age and breed of the animal. Firstly, there is AltuDog Puppy, a food specifically designed for puppies up to 12 months of age or pregnant females, providing them with everything they need to grow strong and healthy. On the other hand, there is AltuDog Adult, ideal for all dogs with a medium to moderate degree of activity, whatever their breed.
We'd also like to let you know that AltuDog's natural dog food is dehydrated, which means it takes up less space and is easier to transport, without losing its beneficial properties. In addition, the price you pay per kilo of AltuDog food doesn't include water, as is the case with other brands. All you need to do is add the water to the food yourself at home, let it stand for about 15 minutes and it will be ready to eat. Therefore, 1 kilogram of dehydrated product is equivalent to the nutritional value of 4 kilograms of the same food fresh.
In short, AltuDog products are top quality and have been created with perfectly natural ingredients. In this respect, they contain no animal by-products and are made from ingredients that are fit for human consumption. Plus, they contain no colourings or preservatives, so they can be considered a healthy and 100% artisanal food. So, if you want your dog to feel good, be healthy and enjoy eating, AltuDog products are exactly what they need.